One of the very first things I do after installing WordPress is set the site's permalink structure.  This is important for the reason that the URL stucture is permanent. If you decide you want to change the permalinks later, you risk breaking links of prior posts.
I found this out the hard way with my first blog, www.djredsonya.com. I didn't set the permalink structure right away, then I noticed later that all my posts URL links had a generic # at the end of each post. See example:



When I changed the permalink structure, it changed the URL of all my pages and posts, breaking tons of previous posts. I then had to do damage control, which is totally possible – with tons of help from more plugins. Well, I never want to go through that again! Learn from my mistake, and choose your permalink FIRST, and wisely. Here's how my URLs display currently, showing year and month archive, and then the post name:


Want to know how to set your WordPress blog's permalink structure?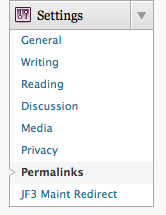 Once logged into your wp-admin panel, navigate down to the settings menu tab and click on "Permalinks".
There you will see a list of choices. Think it through. If there is a monthly weekly or recurring topic or event that you will be posting, then you may want to go with the structure like I have picked above for www.djredsonya.com (month and name).
Choose a setting, and click Save Changes:

Here I've used the custom structure option to only show the post or page name following the site url the using /%postname%/ code. The result:


On the permalink page, there are also options for the "category base".


I don't really think it's necessary to have this word in the URL structure at all, so I ignore this step, and yet add another step to get rid of the category base altogether.
An example of what I'm talking about:


See how is says /category/uncategorized? I think it looks better without the word category, and the only way I know around it is by installing a plugin called "No Category Base".


In the wp-admin panel, add a new plugin.
Type "No Category Base" in the Search Field.


Click on Install Now.



After you Install, Activate! You're done! No settings to set, the word 'category' is gone, and the URLs are the way I want them!


Something to keep in mind: search engines love keyword rich permalinks. Be smart when picking your post titles.
For more info on Permalinks:  https://codex.wordpress.org/Using_Permalinks