There are many reasons why I'd recommend backing up your website regularly. Trust me, you don't want to learn the hard way, by spending years adding content and find it all gone in an instant because your hosting service got hacked. Maybe you update your theme or add a plugin that breaks your site? I've seen it happen. I've heard about it happening. As much as we'd like to trust the internet to hold our information indefinitely, we have to be realistic, and prepare for the worse. You wouldn't want to start over from scratch, would you? Time is money, so let's not waste time!
Listed below are a few ways to cover all the bases to make sure you are backed up!
Backup Database
First, Export XML File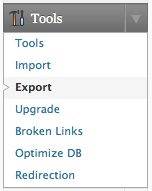 The easiest way to manually back up your database files is to simply export an XML file. All it takes is a click of a button. This is also a good method if you want to move content from one blog to another. (Importing an XML file is just as easy.)
The file will contain your posts, pages, comments, custom fields, categories, and tags.


Install & Activate WordPress Database [WP-DB-Backup] Plugin
The WordPress Database Plugin is one of the first plugins I like to install on a fresh site. This backs up your database files automatically for you. This comes in handy if you forget to use method #1. 😉
Within the "Tools > Backup" settings menu, you have options for instantly downloading a backup to your server, to your computer, or sent in an email, as well as options for how frequently you want to automatically backup your site.
Backup Core WordPress Files
These methods above backup only your website's database. It's a good idea to also backup your theme files, and all your plugins. If you make any customizations to any core files and don't back them up, you risk a chance of losing these edits during the upgrading process.
To backup your website's files, use your favorite FTP application or software to download your site's folder onto your local computer. I recommend downloading the entire folder, but if you are limited on space, the wp-content folder is the most important, along with the wp-config.php file that stores your database info.
Backup from cPanel
Most hosting companies provide backup services as well. Contact your host, or look around in your host's admin panels for a "backup wizard" or settings configuration. This method is worth looking into. Why not use the tools that are available, right?
For more information on WordPress backups, visit the WordPress Codex.
What method do you use to backup your blog? Leave a comment below and share your thoughts!