I figured it was about time I created a post about how to get started with WordPress. It can be a bit overwhelming at first. I've learned from experience that if you skip over certain parts in the beginning, it can create you more work later when you have to go back and fill in the empty blanks. Here I'll go over the basic steps on how to be a careful and efficient blogger. You'll thank me later, when you see your organic traffic grow!
Click on "Add New" from your site's admin posts' menu & fill out the following sections:
1. Title. The title of your post. Basic, yet this is a very important field if you learn how to use it to your (SEO) advantage. You'll also notice if you have pretty permalinks turned on, the post "slug" will be underneath the name, and has the option to be edited separately. I usually leave this alone, unless I want to shorten it or make it better keyword friendly.
2a. Description. There's a lot you can do with this section. There are two ways to input your content into the blog post. Use the Visual editor for when you want to use the WYSWYG panel to style your text and such. If you are embedding code from another site, like Youtube or Soundcloud, then be sure to switch to the HTML editor, and paste the code there. You can go back and forth between the two screens.
2b. Images. If you want to add images to your post, click on the photo icon next to the Upload/Insert text right underneath the title.



A window will pop up, and you will see 3 options to Add an Image. The first option is the most common, From Computer. Click on "Select Files" and do just that, and Upload of course.


Once you have uploaded the image(s), you have the option to edit the title, alternative text, caption, and description. I recommend at least taking the time to fill out the Title and Alternative Text fields. (Alternative Text is what shows up over your cursor when you hover over the image. Ever notice that?)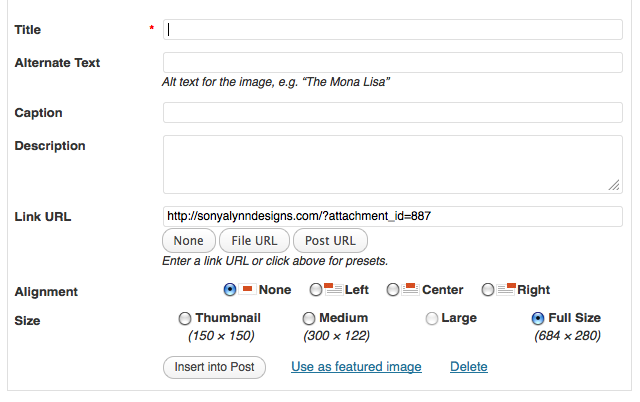 Photo VS. Gallery
– If you are posting one photo at a time in you post, then click on "Insert into Post" to place your photo where your cursor is on the edit screen.
– If you are planning on posting a photo gallery, instead of inserting any photos into the post, save the changes, and proceed to the Gallery Settings underneath the photos, and click on "Insert Gallery". This will output a shortcode into your post. To see the gallery, preview the post in your web browser. If your theme supports featured images, be sure to choose your featured image when creating your post. You can click on "Use as featured image" on the photo in the gallery, or "Set featured Image" in your admin panel, usually in your sidebar.

3. Excerpt. This is your blog post summary. One paragraph, short and sweet, preferably chock full of keywords, just don't abuse that thought. Full sentences are ideal. Most themes these days have ways of showing teasers of your posts, on archive pages, in widgets. You know what I mean, you've seen it, the basic thumbnail and short paragraph. The thumbnail is the featured image I mentioned above, and the short paragraph is the excerpt. Fill it out! Just do it!
4. Tags. Keywords, and Keyword Phrases. I could go on for days on this topic. Something I've learned, don't go overboard if you don't know what you are doing. Start with 5-10 keyword phrases you think are relative to your blog post, and monitor their performance by using Google Analytics. If you really want to increase your search engine rankings, dig deeper using the Google Keyword Research Tool to find better ranking terms, and make sure they are also incorporated into the above mentioned, title and description of your posts.
5. Categories. Where is your blog post going to go on your blog? I find that blog categories can take a minute to wrap your head around when creating a new blog. Categories essentially function as a page, that contains related content. Yet, you don't have to make a "page" at all. By creating a category, you automatically create an archive page, which can be an item on your navigational menu. Then, you can create sub-categories, in a drill down menu, to be more specific within a topic. If you don't pick a category, it will automatically be marked as "uncategorized" and risks not being visible on your blog, depending on your theme.
Good job, now Click Publish. (Or schedule your post to publish at a later date.)
These 5 sections are the most important pieces to your blog post. Don't skip over these fields, and you are on your way to better blogging. Of course, there are more options available in your edit post screen, depending on what version of WordPress your are running, or what theme and plugins you have turned on. A lot of them are self-explanatory, some aren't. If you not sure about a setting you see in your post edit page, ask your webmaster, or feel free to leave a comment below & perhaps I'll make a blog post about it?
Cheers!